Service
Engineering business

Sales engineers with extensive experience and specialized qualifications provide one-stop support from equipment selection to installation.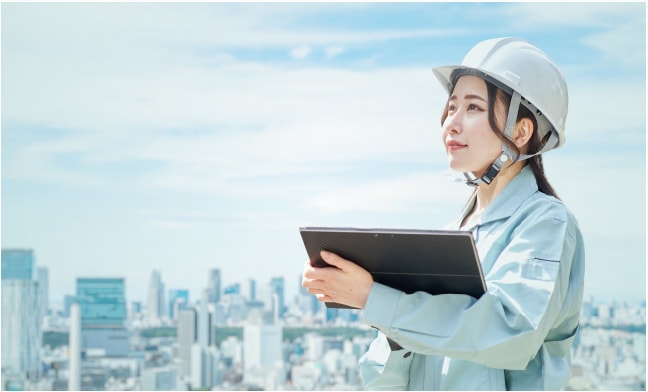 We provide total support from proposing DX promotion, automation, and labor saving at manufacturing sites to responding to troubles and maintenance inspections.
Career field
Automation/
labor saving/
DX solutions

Machine equipment
installation
work

Pipe work

Electrical
construction

Joinery work
(Shutter.
Partition)

Maintenance
inspection
service
One stop
Consulting

Design

Production,
construction

Maintenance,
inspection
Consulting

Our sales engineers, who are familiar with all types of manufacturing sites, carefully listen to customers' issues and requests. Consulting is also a valuable opportunity to discover issues that the customer could not have discovered on their own, and is an important step in proposing solutions that go beyond what the customer was hoping for.

Plan

Based on the content of the consultation, we collaborate with manufacturers and partner companies to design the best plan to solve the customer's problems. By taking into account multiple factors such as functionality, ease of operation, delivery time, and cost, we present a plan that will satisfy the customer in total.

Produce

Once you are satisfied with the design plan and place your order, we will begin manufacturing and construction. Yamakyu, which has a wealth of licenses, provides one-stop service for a variety of construction work, from mechanical equipment installation work, plumbing work, electrical and fitting work, to maintenance and repair. We will respond to your detailed requests.

Maintainance

Because machinery and equipment are used for decades, we want to keep them in top condition at all times. With this in mind, Yamakyu regularly maintains and inspects the products delivered to our customers. We also accept consultations on product improvements, additions, and upgrades at any time, depending on your requests.

Qualified person
Specific permission for machinery and equipment installation work
Supervisory person with work experience (1 person)
Mechanical equipment supervision technician (1 person)
Plumbing work specific permission
1st grade pipe construction management engineer (2 people)
2nd grade pipe construction management engineer (5 people)
Management work supervision engineer (1 person)
Electrical work general permit
2nd grade electrical work construction management engineer (1 person)
Joinery construction general permit
2nd grade Architectural construction management engineer/finishing (2 people)
Foreman/safety and health supervisor training participants (30 people)
Asbestos-containing building materials surveyor (2 people)

Case Study
Engineering business example
Category

Automation, labor saving, DX solutions

Food manufacturing factory: Image detection system & conveyance line installation
Resin film factory: Leak check automatic device installed
Engine manufacturing factory: Installation of engine shipping transportation line

Photo provided by: Nissho Technica Co., Ltd.

Category

Mechanical equipment settings

Metal processing factory: Installed gate-type machining center
Can factory: Installation of Co2 laser processing machine (use of energy saving subsidy in 2019)
Steel processing factory: 10t crane production and installation

Category

Pipe work

Metal processing workshop: air conditioning equipment construction (100 horsepower 12 systems)
Food factory: simple constant temperature and humidity air conditioning equipment construction (equipped)
Non-metal processing factory: Compressor & quantity control installation work
Machine manufacturing factory: Cooling tower installation work

Category

Electricity, fittings, and other construction work

Metal processing factory: Large heavy shutter renewal work
Food factory: Sheet shutter renewal work (with instrumentation)
Food factory: Air shower renewal work
Metal processing factory: High ceiling LED renewal work

Category

Maintenance and inspection services

Periodic compressor inspection
Hoist/crane annual inspection
Large motor maintenance work
Air conditioning equipment cleaning work
Pump/fan maintenance work
PLC (sequencer), servo motor, amplifier repair, data recovery repair service
For other cases, please contact us below.
Contact